BARBECUE BENCHTOPS FOR ALFRESCO & OUTDOOR KITCHENS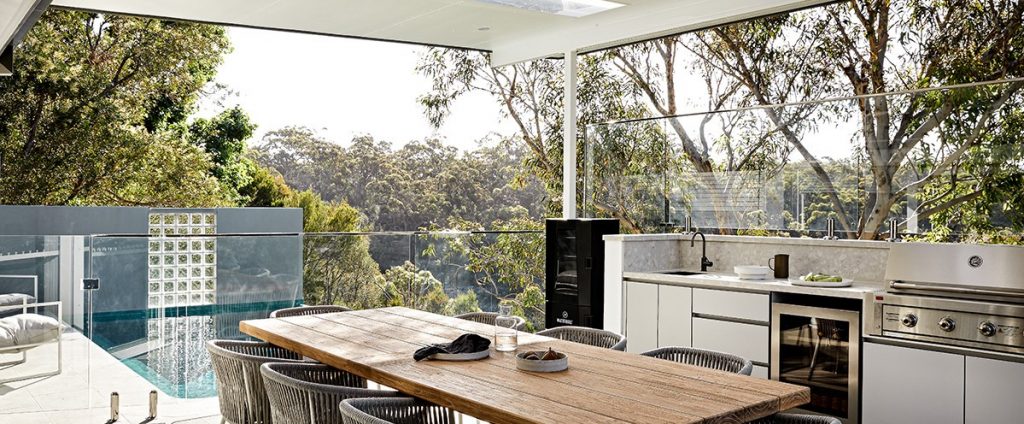 NEOLITH PORCELAIN
NEOLITH BARBECUE BENCHTOPS OUTDOOR KITCHEN
Neolith extraordonary surface. Has created a new way of thinking about shapes and spaces. Architects around the globe are redefining design and creating unprecedented ideas for Neolith Barbecue Benchtops and Outdoor Kitchens.
Neolith Infinite application. Available in both slab and tile sizes, Neolith is suitable for the most demanding applications, both indoors and out. Neolith's unparralled characteristics make it suitable for kitchens, bathrooms, floors, walls, facades, fireplaces, BBQ areas and more.
---
THREE POPULAR NEOLITH OUTDOOR OPTIONS
NEOLITH BARBECUE BENCHTOP OUTDOOR KITCHEN
---
Neolith Porcelain Barbecue Benchtop – Retrostone
Providing depth through its timeless, alluring beauty. Neolith Retrostone is a subtle yet sophisticated addition to this contemporary outdoor kitchen living space. Featured as the outdoor kitchen benchtop, splashback and BBQ area, Neolith Retrostone creates a consistent style across this design. Neolith is scratch, stain, heat and UV resistant, make it ideal for use outdoors and around BBQ area. Mirroring Terrazzo, Neolith Retrostone is an elegant surface with a striking, big-grain effect. Neolith Retrostone honours the long and ancient history by produces a mesmerising Terrazzo that pays homage to Venetian stonemasons. Creating a timeless aura in this modern design. It easy to see why Neolith Retrostone is a popular alternative to common Terrazzo designs.
---
Neolith Porcelain Barbecue Benchtop – Iron Grey
Bridging the gap between metal and natural rock. Neolith Iron Grey offers darker greyish tones combined with a subtle shine. Neolith Iron Grey provides a sense of elegance. Neolith Iron Grey is a the perfect outdoor kitchen benchtop product as a suttle but stylish compliment to all stainless steel barbecues.
---
Neolith Porcelain Barbecue Benchtop – Iron Corten
---
With warm red oxide tones. Neolith Iron Corten offers an explosion of colour to all kinds of outdoor kitchens, alfresco, spaces. This daring porcelain stone transmits personality and remains intact over time. This makes it perfect for the most contemporary designs, outdoor barbecue benchtops, outdoor kitchen projects. .
---
This classic design highlights the extensive design possibilities of Neolith!
---
TECHNICAL FEATURES
After years of research and innovation, Neolith is a testament to technological development. Consisting of all raw materials, pressed under immense pressure, Neolith's technology is unprecedented in the construction industry. As a result, Neolith is the new superior standard in surfaces.
SRATCH RESISTANT
Resistant to scratching and abrasion due to the hardness of the surface.
RESISTANT TO HIGH TEMPERATURES
Does not burn in contact with fire or let off smoke or toxic substances.
NEOLITH IS EASY TO CLEAN
Neolith Porcelain is resistant to chemically based cleaning agents.
NEOLITH WATERPROOF
Neolith Porcelain An absorption level near zero makes it resistant to stains.
NEOLITH SUITABLE FOR HEAVY TRAFFIC
Suitable due to the hardness of the surface, Neolith Porcelain.
NEOLITH RESISTANT TO UV RAYS
Does not deteriorate from exposure to the sun or extreme temperatures.
---
NEOLITH BARBECUE BENCHTOPS FULL COLOUR RANGE

NEOLITH PORCELAIN MORE INFORMATION
---
STONE SOLUTIONS SYDNEY SUPPLY AND INSTALL AN EXTENSIVE RANGE OF KITCHEN STONE BENCHTOP PRODUCTS THROUGHOUT SYDNEY.
---
These kitchen stone benchtop materials including natural stone (e.g quartz, marble and granite), engineered stone (list above including kitchen stone benchtop overlay), and (new) Neolith Porcelain sintered compact surface.
We are one of the preferred Sydney Stonemason of the following well known importers, manufacturers and brands.
We provide quality kitchen, bathroom, laundry and commercial services in Sydney.
We look forward to the pleasure of you being our next satisfied customer.
---
WE CARE ABOUT OUR CUSTOMERS
Our ongoing success is not only due to the quality of our work; it's down to attitude, our approach and the way we treat our customers
BLAKE JOHNSON
Director – Stone Solutions
---
NEOLITH BARBECUE BENCHTOPS SUPPLIER WEBSITE LINK
Please do not hesitate to contact our valuable Neolith Barbecue Benchtop Supplier CDK Stone. They will happy to discuss your
Neolith Barbecue Benchtop Options. Stone Solutions will provide a quality installation of the Neolith Barbecue Benchtop colour of your choice.
---